Meksea Connection expresses appreciation to beloved customers at VIETFISH 2015

Mekong Seafood Connection Co., Ltd (MEKONG Company) is meeting its customers and long-term partners at Vietnam Fisheries International Expo 2015 (VIETFISH 2015) held at Saigon Exhibition and Convention Center – SECC located in District 7, Ho Chi Minh City. There MEKONG will be introducing its primary products, namely Pangasius, Shrimp and Tuna, etc. to its customers and visitors.
Closely following the VIETFISH 2014's great success, this year expo is expected to welcome approximately 200 customers, partners from Europe, China and Middle East Countries, in addition to thousands of visitors, according to Mr. Hoang Duy – MEKONG's Commercial Director. Apart from the chance of bringing in the company's new seafood products, this is considered a good occasion for MEKONG and its customers to discuss and exchange ideas regarding plans of boosting export in the coming time, especially the last 6 months of 2015.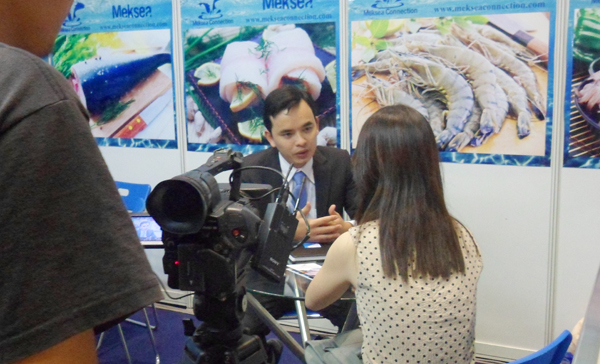 Mr. Hoang Duy representing the comany answering questions from VTC channel's reporter
On top of traditional products such as Pangasius Fillet, Vannamei Shrimp, Black Tiger Shrimp, Tuna Loin, Tuna Saku AAA, etc. this year, MEKONG is introducing at its booth (No. 204) new product lines, particularly value added products, to customers and visitors in the hope of fulfilling new trends and fast-increasing demand of consumers worldwide. This is an ideal occasion for the company's leader to express his deep gratitude to precious loyal customers for having put their trust in MEKONG's products over the past time. Moreover, this expo is, in many ways, an excellent opportunity for visitors and exhibitors to update themselves on the material and finished products' current prices as well as the export situation in the forthcoming time.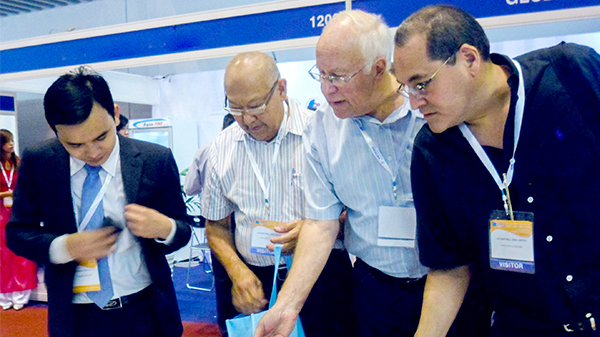 Visitors showing interest in MEKONG's seafood products.
VIETFISH is the Vietnam's leading international seafood expo in Vietnam annually organized by Vietnam Association of Seafood Exporters and Producers (VASEP) under the Ministry of Agriculture & Rural Development's policy. The expo, which is taking place for 3 days starting from 24 to 26 August, 2015 at Saigon Exhibition and Convention Center – SECC, will be gathering more than 200 booths of domestic and international businesses and attracting around 30, 000 visitors within and outside of Vietnam.
Mekong Seafood Connection Co., Ltd, which was established in 2010 in Ho Chi Minh, after 5 years of forming and developing, has been known for its high quality products and professional services in several worldwide markets: Europe, America, China, Russia, Middle East Countries, etc. The company's strategy is to make its name through the quality of products and services delivered with the aim of becoming a prestigious distributor of frozen seafood in Vietnam as well as in the region. All of the MEKONG's products have obtained international certificates relating quality, food hygiene, sustainability and traceability such as ASC, Global GAP, B.A.P, ISO 2000, BRC, HALAL, IFS, etc.
Contact Person:
Mr. Hoang Duy
Tel: (+84)903 872 469
Email: hoang@mekseaconnection.com
Some pictures from previous VIETFISH expos: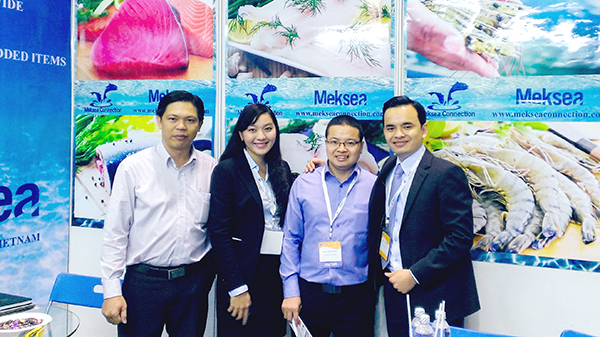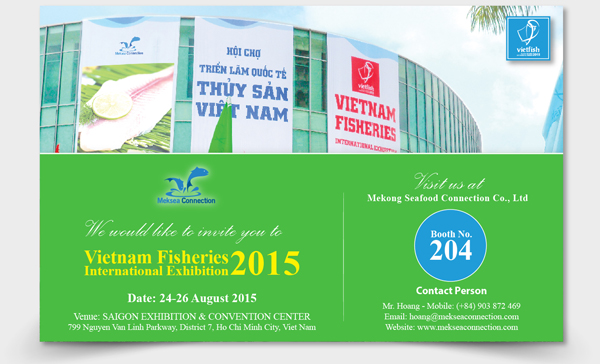 An invitation from The Board of Directors to beloved Partners and Customers
By MEKSEA Team.