Vietfish 2023 – the largest edition of the Vietnam International Seafood Expo
MEKSEA.COM – Through 25 editions filled with passion and experience, Vietfish has been recognized as the gathering place for the elite of Vietnam's seafood industry and in the world, taking place in one of the top three seafood exporting countries in the world. As the leading seafood distributor in Vietnam, Meksea is honored to accompany Vietfish 2023 as the platinum sponsor.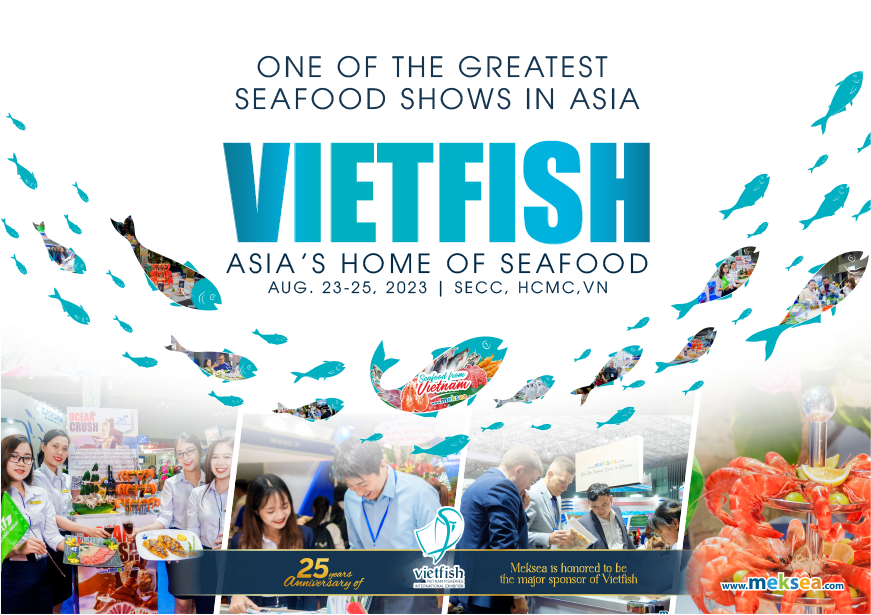 Commemorating the 25th anniversary of the establishment of the Vietnam Association of Seafood Exporters and Producers (VASEP)
As usual, Vietfish 2023 will be held from August 23-25 at the Saigon Exhibition and Convention Center (SECC) in Vietnam. This event is a platform connecting processing businesses, managers, suppliers, retailers, industry professionals, production and processing units, seafood exporters, etc. It showcases a diverse range of Vietnam's products that are popular in many markets worldwide. These high-quality seafood products are produced using the most advanced technology, managed through a comprehensive system, and certified internationally.
On the occasion of VASEP's 25th anniversary, Vietfish 2023 is organized on a large scale, covering a total area of up to 16,000 square meters (double the size of 2022), making it the largest edition of one of the major seafood events in Asia. Vietfish serves as an exhibition of products and as a meeting place for networking and exchange among industry experts from the region and around the world. It attracts the attention of many countries, such as Thailand, Korea, Canada, the EU, the US, China, Japan, Indonesia, Malaysia, and more.
Moreover, Vietfish is considered an ideal event for partners and customers seeking high-quality seafood supplies from Vietnam for their peak Christmas and New Year sales plans. This is the best time for you to secure orders at the best prices, ensure early production to meet deadlines, and plan your sales strategy.
What does Meksea bring to customers via this largest seafood event in ASIA?
With the ability to provide various types of seafood in different specifications and a flexible sales policy with many advantages, in Vietfish 2023, Meksea creates opportunities for customers to access diverse product lines, meeting the purchasing needs of businesses from various countries worldwide. Currently, Meksea's seafood products are present in many countries, such as Europe, Africa, the Middle East, South Korea, Japan, China, Singapore, Hong Kong, Taiwan, Thailand, Australia, and so on.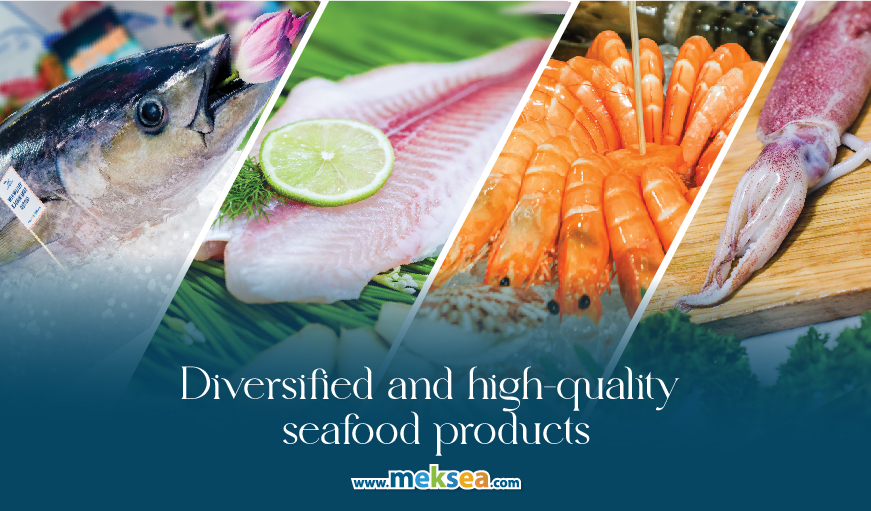 This year, at Vietfish, Meksea is excited to introduce our high-quality seafood products from Vietnam to our esteemed partners and customers. These products are popular in many markets, including pangasius, black tiger shrimp, vannamei shrimp, tuna, marine fish, freshwater fish, cephalopods, bivalves, and value-added goods. They will be showcased at the Meksea booth with attractive and diverse packaging, rider, box, carton with the latest trend design and eye-catching. In addition to seeing the products up close, visitors to the Meksea booth at Platinum 1 will have the opportunity to taste delicious dishes with the distinctive flavors of Vietnamese seafood at our Cooking stand.
With a passion for distributing high-quality and safe food for global consumers, Meksea's seafood products provide you with high-quality products produced using the most advanced technology, managed through a comprehensive supply chain system, and certified internationally. Meksea's experienced independent quality control team will help you monitor your orders, from raw materials to finished products and ensure timely delivery to you.
Especially, when you visit the Meksea booth at Vietfish 2023, you will have an opportunity to become a lucky customer who will receive valuable discount vouchers for your next orders at Meksea.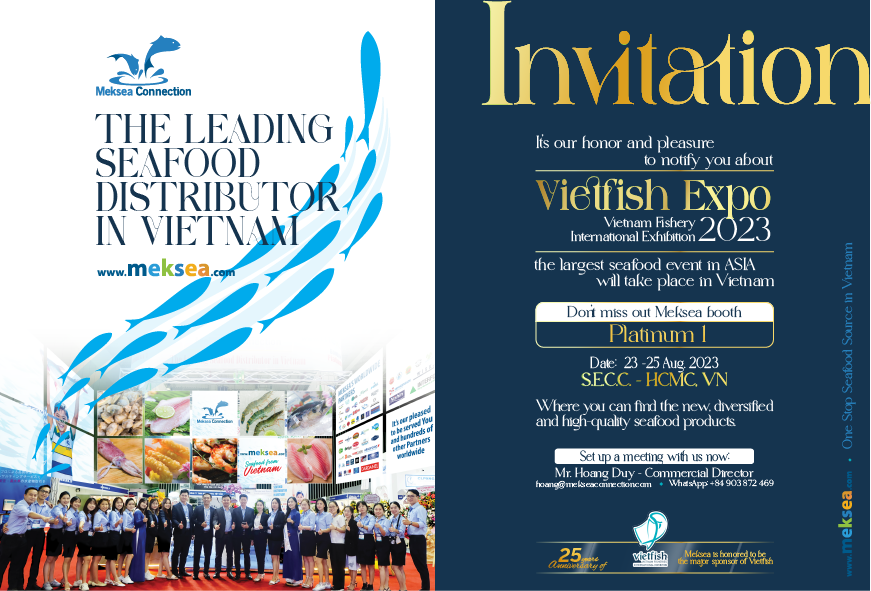 With relentless effort and dedication to bringing customers the best services and products, Meksea has gained the trust, support, and high evaluation from customers, proven through loyal customers and new contracts from potential new customers, even in the context of inflation. This also is a great motivation for us to work hard every day to serve you.
As always, Meksea is honored to be accompanied by Vietfish as the major sponsor, especially in commemorating the 25th anniversary. On behalf of Mekong Seafood Connection, we would like to express our deep gratitude to our valued partners, who have trusted, supported and accompanied Meksea in the development journey, affirming the prestige and brand name Vietnamese brand name in the global seafood network. On the occasion of this Vietfish fair, Mekong would like to invite our partners to spend some precious time coming to our booth to discuss future cooperation opportunities.
Mekong Seafood Connection Co. Ltd
Booth no.: Platinum 1
Mobile/WhatsApp, WeChat: (+84) 903 872 469 (Mr. Hoang Duy – Commercial Director)
By Hayati (Meksea Team)
(hayati@mekseaconnection.com)
If you found this topic interesting, please click the Like button below, so we may continue to expand this topic. Leave a comment with your thoughts for the author team to discuss