Vietnam FoodExpo 2017: Mekong Food Group would like to express our deeply grateful to all of customers and partners in both domestic and abroad
Vietnam Foodexpo 2017 is the largest International trade promotion event in Vietnam specializing in agricultural produce, seafood and food technologies organized by Vietnam Trade Promotion Agency – Vietrade (Ministry of Industry and Trade). This year expo took place from November 15 to 18, 2017 at Saigon Exhibition and Convention Center (SECC) in District 7, Ho Chi Minh City and gathered over 450 companies from Vietnam and more than 20 other countries and territories of world. Vietnam Foodexpo 2017 especially attracted world's renowned trade promotion organizations such as CBI, BUSINESS FRANCE, ITA, KOTRA, JETRO, AKC, ATPF, TAITRA and ITC together with associations of food and food – related industries and domestic trade promotion centers in Vietnam.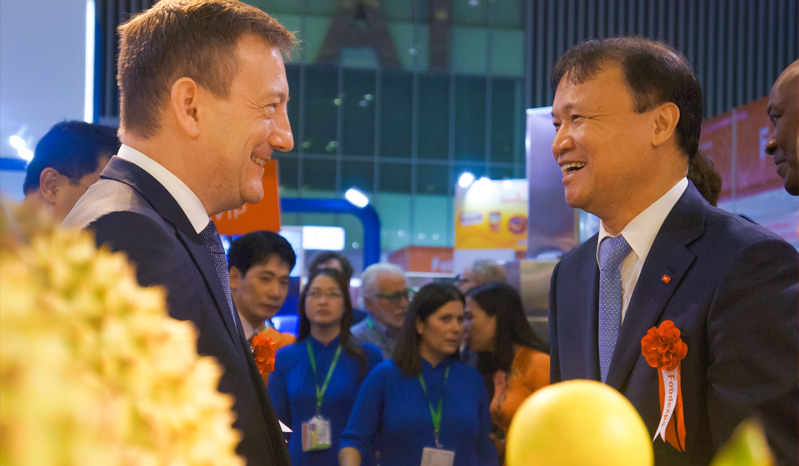 French's ambassador in Vietnam – Bertrand Lortholary interested in Fresh Agricultural products and diversity of products (photo: MFG Team).
Every year, the exhibition is a place for exhibitors to display and introduce products of several sectors namely Vegetables (fresh, dried, canned and frozen products), Seafood (frozen, canned and processed products), Beverage (beer and other kinds of drinks), Tea and Coffee, Other food kinds (Rice, Nuts, Spices, Food additives and Sauces); Processed food (sweets products, milk, dairy products, canned foods, read to eat foods and functional foods), food production technologies.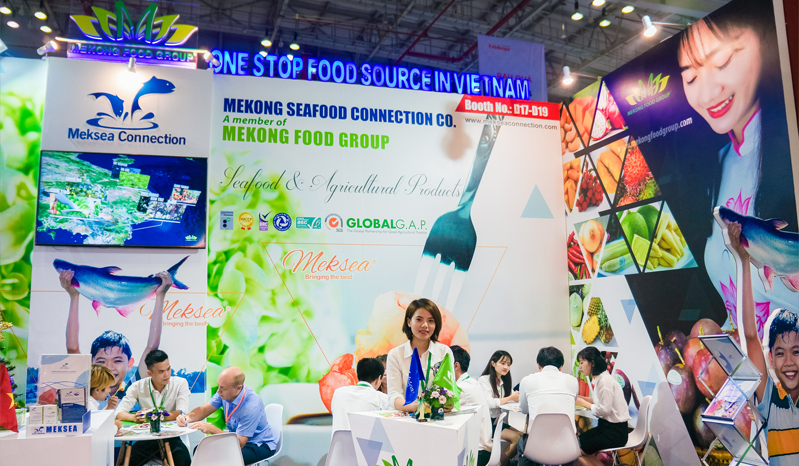 Taking part in this year expo, Mekong Food Group (MFG) wanted to express its sincere gratitude to its partners, and domestic and foreign customer. This was an occasion for MFG to not only strengthen the relationships with the current customers but also look for new business opportunities. On top of that, MFG and its partners discussed the present challenges of the markets of agricultural produce and seafood to come up with solutions and more sustainable cooperation opportunities.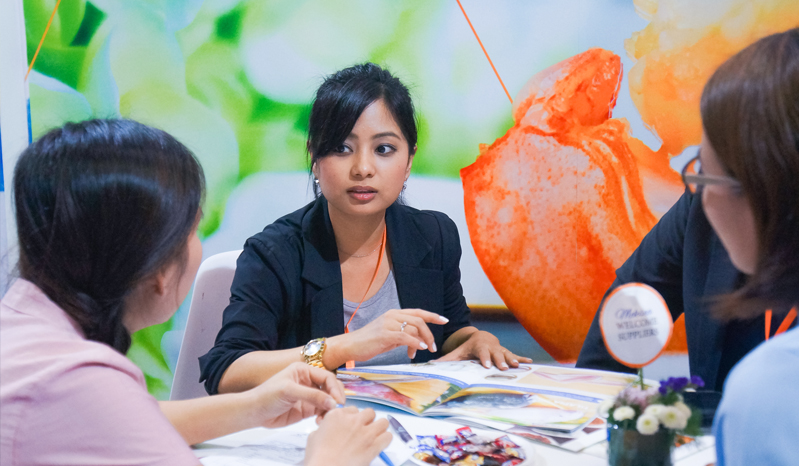 At Vietnam Foodexpo 2017, besides the branded products, MFG also gave introduction of its new business venture with agricultural products such as frozen fruits and vegetables, and cashew nuts to its partners. As one of only a very few Vietnamese companies with the hope of bringing Vietnamese branded to the world, MFG, once again, affirmed its "Maintaining Vietnamese Brands" dream.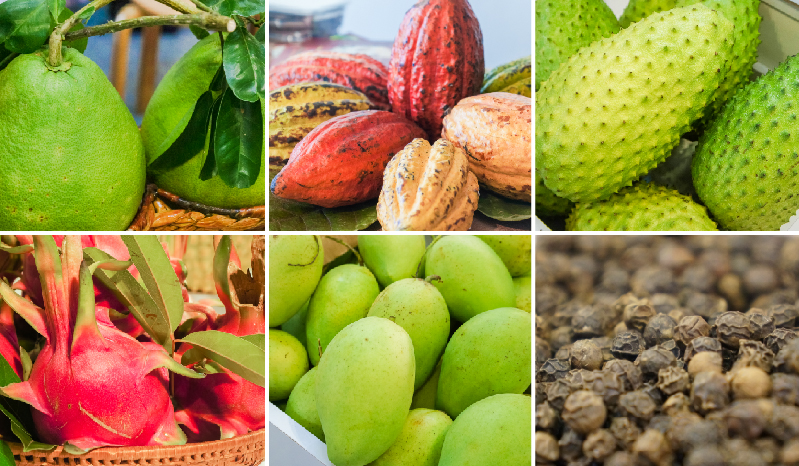 Within the scope of Vietnam Foodexpo 2017, MFG brought along stories of traceable, nutritious and fresh Vietnamese products, and the journey across the ocean of Vietnamese seafood to every corner of the world. Each story has in it the heart and soul of the insiders, and the concerns of how to get consumers worldwide quality and clean foods.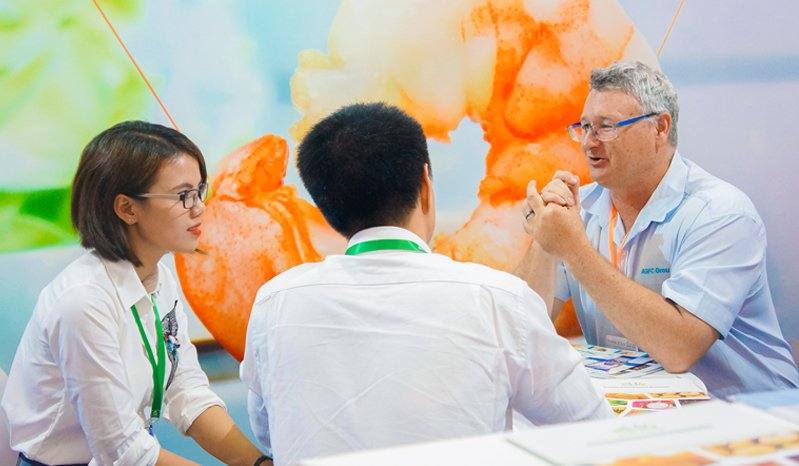 Side by side with the activities of the expo, MFG's booth was exciting with several meetings with customers and visitors. MFG welcomed over 300 foreign visitors at the booth with diversified needs for seafood and agricultural products as well. Two contracts were signed at the expo and several bulk orders were concluded.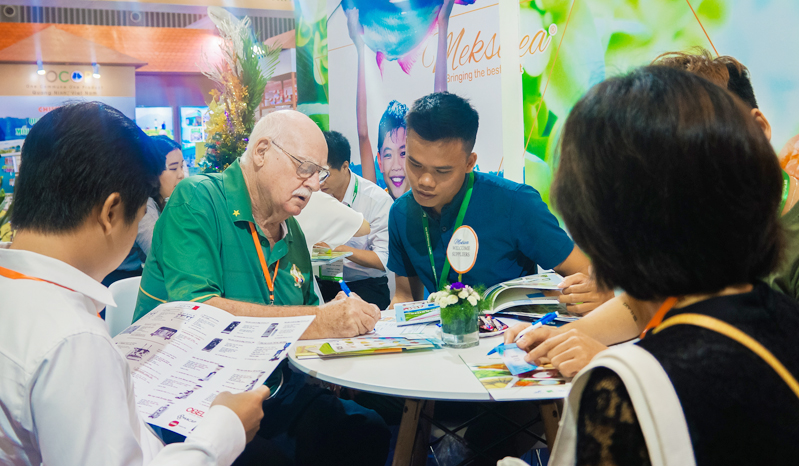 The MFG's sales executives, with their enthusiasm and professional knowledge, supported the customers and visitors to their best, provided the latest information as well as took notes of goods inquiries. With such efforts, MFG proved to be one of the most attractive booths at the expo. This somehow raised the quality of some invisible values of the company such as image, prestige and brand name promoting the name of MFG and  increasing the company's footprint in the industry of agriculture and seafood industry.
MFG also took pride in being awarded as "The best booth design" by the Board of Organizers at Vietnam FoodExpo 2017. By using sustainable and natural materials to create a modern, fresh image combined with an open atmosphere, MFG's booth was remarked as an impressive and cozy design.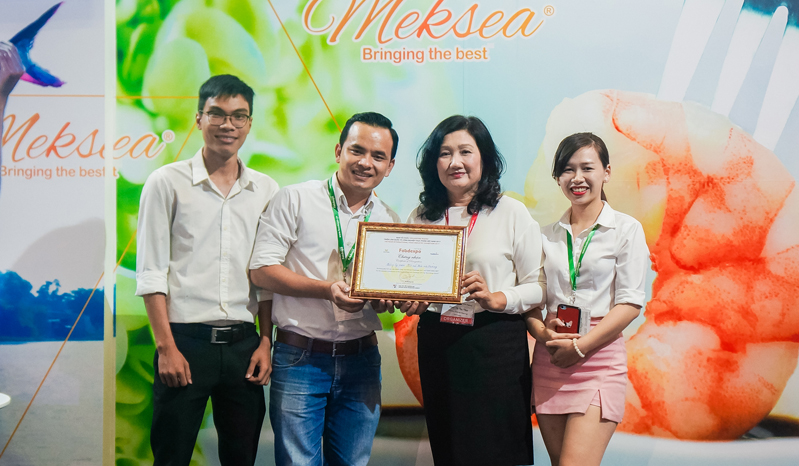 Keeping in mind the mission of "Maintaining Vietnamese Brands" at Vietnam FoodExpo 2017, MFG affirmed its message "Bringing Mekong food to worldwide" to develop and raise the competitiveness of Vietnamese products.
Below are some pictures of MFG's representatives meeting up and work with its partners at Vietnam FoodExpo 2017: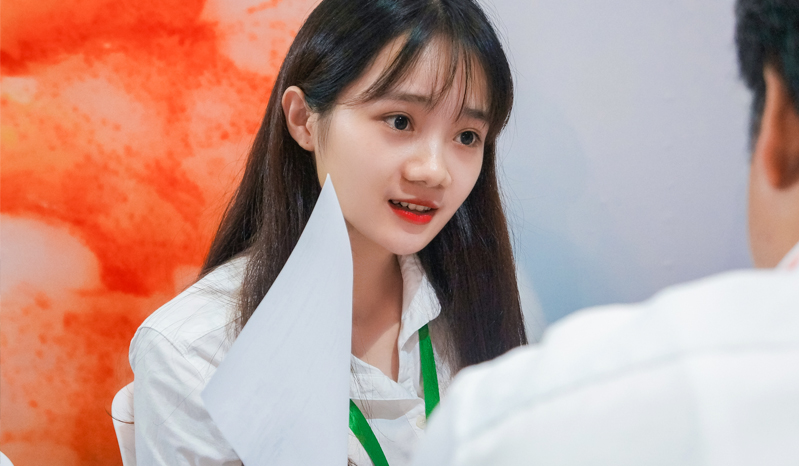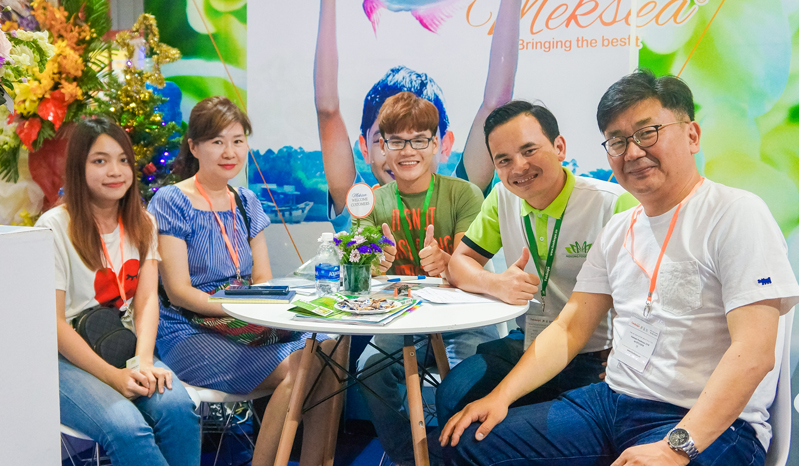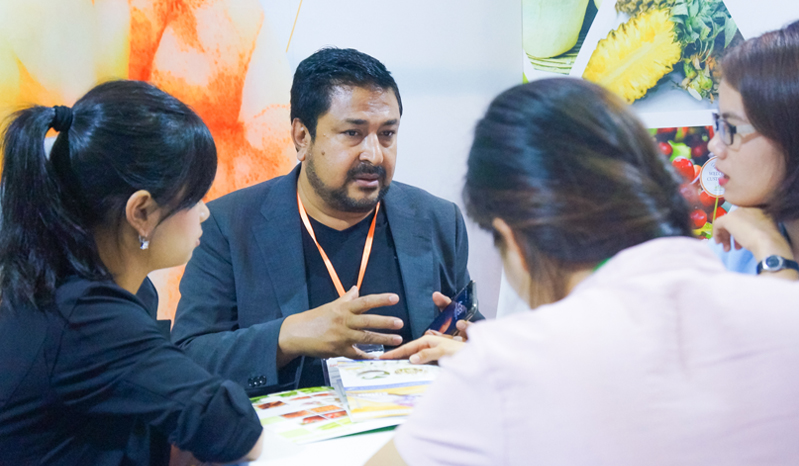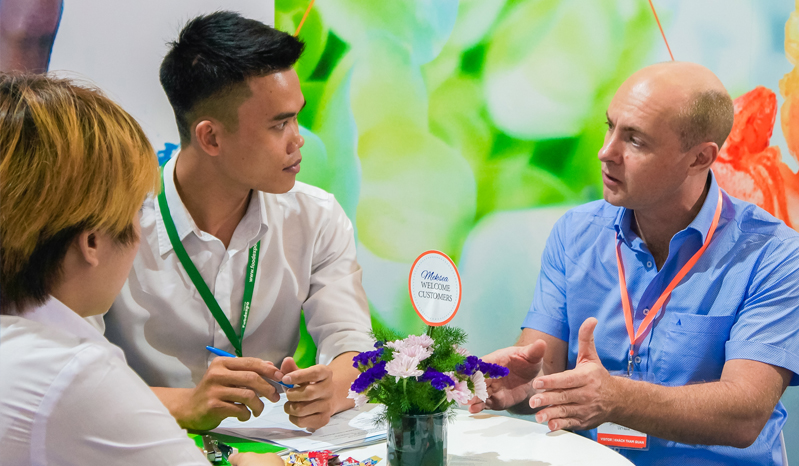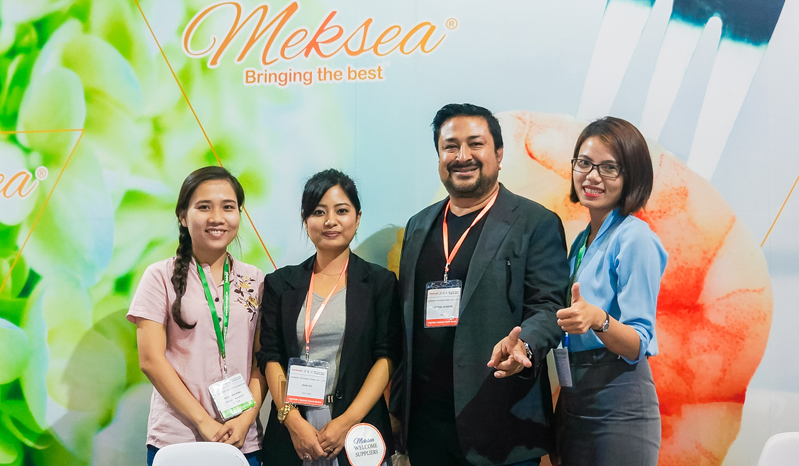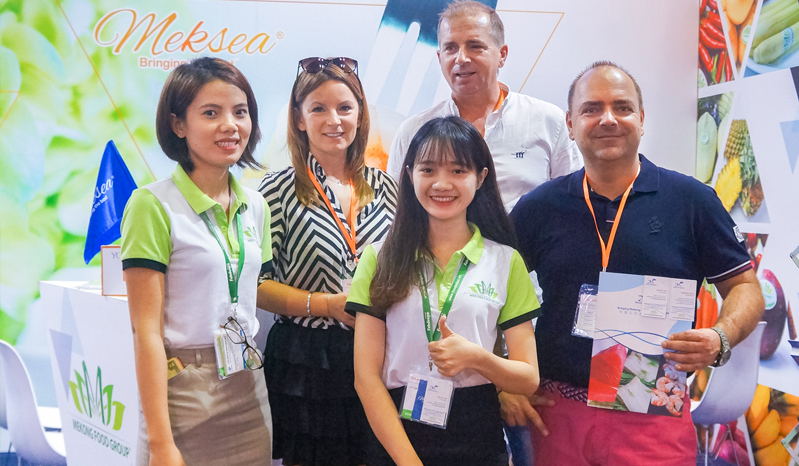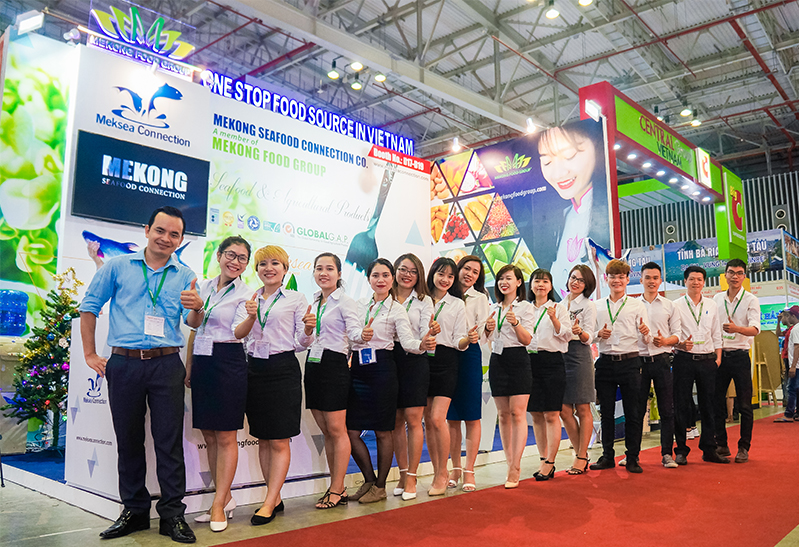 By MFG Team.