Five reasons why you should stop by Meksea stall at Vietnam Pavilion at Seafood Expo Global 2023
MEKSEA.COM – I can't wait for next week, Seafood Expo Global 2023 (SEG 23) will officially take place in Fira Barcelona Gran Via Venue, Barcelona, Spain. Are you ready?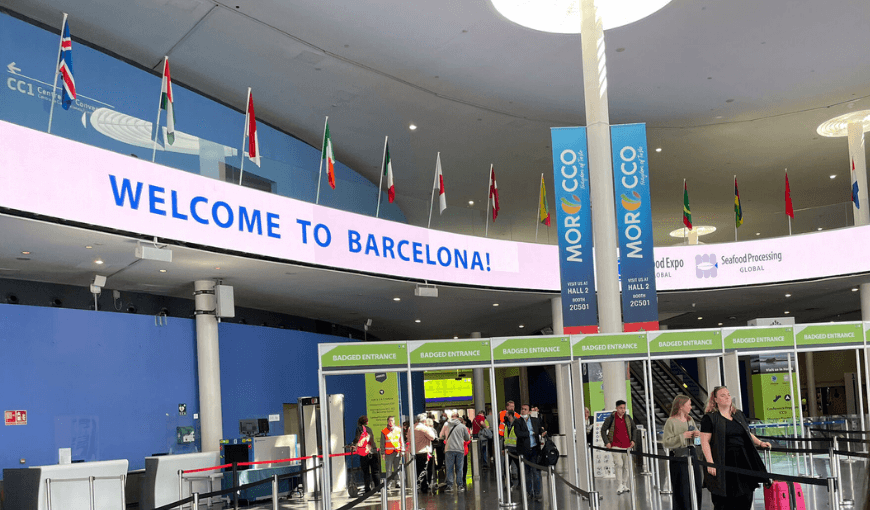 Seafood Expo Global is the largest and most important seafood industry event in the world, and it attracts a diverse range of attendees with different interests and backgrounds. There, people can showcase their special seafood products, and services to expand their customer network or discover new seafood products, and suppliers, or stay up-to-date the latest trends and innovations in the seafood industry.
This year, Meksea is honored to be accompanied by Vietnam business delegation to return to Barcelona to attend this largest seafood expo event in the world. On behalf of Mekong Seafood Connection CO. a member of Mekong Food Group, we cordially invite you to have a business meeting with you at SEG 2023 on 25-27th April 2023 in Barcelona.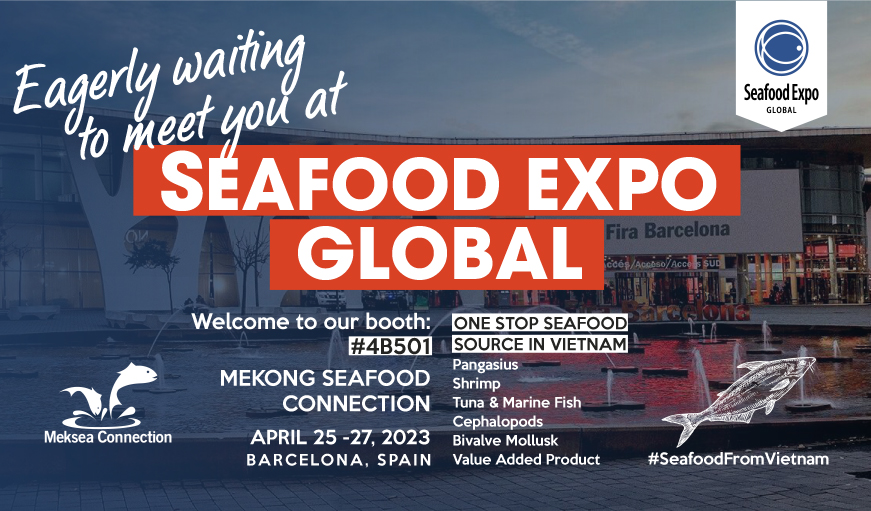 Five reasons why you should stop by Meksea stall at Vietnam Pavilion at Seafood Expo Global 2023
Firstly, Vietnam is the third largest seafood exporter in the world (according to VNBusiness, December 2022), and our export turnover of more than 11 billion USD in 2022, in which, Vietnam's seafood exports to EU markets reached 1,309.500 million USD thanks to having a wide range of high-quality seafood products.
Secondly, some seafood products from Vietnam are popular in the EU such as shrimp, pangasius, tuna, clam, frog legs, VAT products, and so on are served in restaurants, supermarkets, domestic retailers, and so on. Especially, at Seafood Expo Global 2023, we will have the Cooking Show Program with Vietnam's special seafood, so you can enjoy it.
Thirdly, as a leading seafood distributor in Vietnam, Meksea not only has diverse categories and seafood products but also has a close relationship with domestic and international logistics and shipping companies. Therefore, we can assist you in handling your seafood orders smoothly and proactively.
Fourthly, in the context of global inflation, seafood from Vietnam has gradually improved its important role in the global food supply chain. For example, last time Vietnam's pangasius has become the main source of white fish supply for many countries.
Finally, as your representative in Vietnam, Meksea can assist you in controlling and auditing each of your orders to ensure the highest quality.
Are you ready to explore Barcelona with us?

See you soon at the world's largest seafood trade event – Seafood Expo Global 2022 in Barcelona. Please contact us to make a meeting together: hoang@mekseaconnection.com  or mobile/WhatsApp number: +84.903.872.469
Hope to see you soon at Vietnam Pavilion #4B510 (hall 4)

Address: Fira Barcelona Gran Via Venue – Barcelona, Spain

Time: 25 – 27th, April 2023
By Meksea Team
If you found this topic interesting, please click the Like button below, so we may continue to expand this topic. Leave a comment with your thoughts for the author team to discuss