Positive signal for Vietnam's shrimp exports to Japan in 2023
MEKSEA.COM – In the first half of January 2023, Vietnam's shrimp exports to Japan reached nearly 20 million USD, up 2% over the same period in 2022. After growing 16% in 2022, Vietnam's shrimp exports to the Japanese market The 2023 version is expected to remain stable.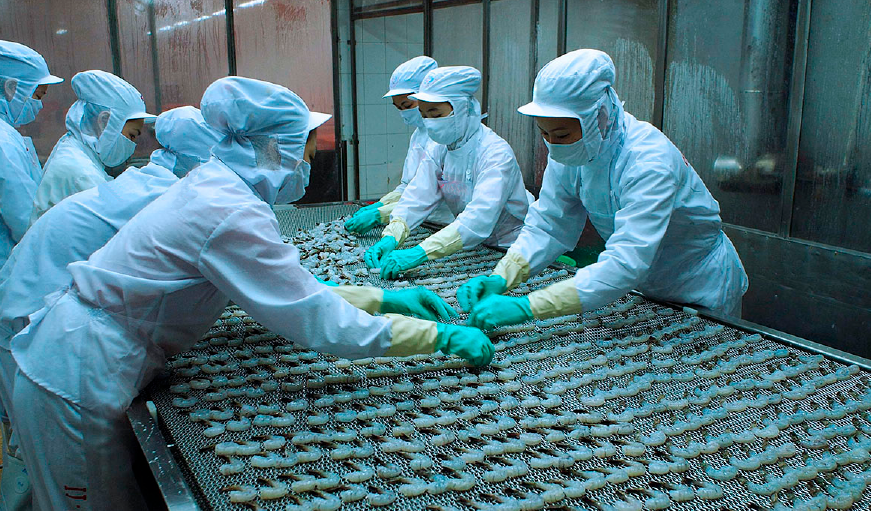 In 2022, Vietnam's shrimp exports to the Japanese market reached 671 million USD, up 16% compared to 2021.
In 2022, Vietnam's shrimp exports to Japan reached $671 million, up 16% compared to 2021. The Japanese market requires sophisticated and meticulous processing techniques that are appropriate for the processing capabilities of Vietnamese businesses. In the context of declining domestic shrimp production due to disease, Vietnam's shrimp products processed for export to Japan have an advantage over other markets.
Among the three main shrimp product groups exported to Japan, the processed vannamei shrimp saw the strongest increase in export value at 25%. The strong growth in the export of this product to Japan helped boost the overall growth of shrimp exports to Japan. Demand for Vietnamese vannamei shrimp from Japanese consumers has been increasing over the past year.
Vietnam mainly exports to Japan key export products such as frozen powder-coated shrimp, frozen steamed black tiger shrimp, breaded shrimp, frozen PDTO Nobashi vannamei, frozen steamed black tiger shrimp, vannamei shrimp with tail. frozen boiled, peeled and tailed frozen shrimp, frozen steamed white shrimp
Read more:  Vietnam's pangasius conquered more than 140 markets worldwide in 2022
According to the World Trade Center (ITC), in the first 11 months of 2022, Japan's shrimp imports reached $2.2 billion, up 7% over the same period in 2021.
Recently, the Japanese government raised its GDP growth forecast for 2023 due to expectations that personal consumption and business investment will continue to grow strongly. The government's stimulus package of JPY 29.1 trillion is aimed at supporting businesses facing difficulties due to inflation. Japan's personal consumption prospects for 2023 are expected to grow by 2.2% thanks to the recovery of the tourism-service sector and the policy of raising wages for domestic workers in the spring. With a positive economic outlook for Japan, Vietnamese shrimp exports to this market are expected to remain stable in 2023.
Meksea sends you the list of our best-selling products this week
---
Kindly please visit Meksea website to explore our shrimp products: https://mekseaconnection.com/product-category/shrimp/
Meksea always pays particular attention to product quality to secure each consumer's family member's health and set their mind at rest by bringing in true quality seafood products.
Are you looking for shrimp products for your sales plan 2023? Contact Meksea right now for the best offers.
---
By Hayati (Meksea Team)
(hayati@mekseaconnection.com)
(Reference: VASEP)
If you found this topic interesting, please click the Like button below, so we may continue to expand this topic. Leave a comment with your thoughts for the author team to discuss