Vietnam's vannamei shrimp export to China and Hongkong increased by 30% in the first haft of this year
MEKSEA.COM – According to statistics from Vietnam Customs, Vietnam's shrimp exports to China, Hongkong in the first half of this year reached 281 million USD, reducing by 16% compared to the same time of this year. June is the first month of this year that Vietnam's shrimp export to China, and Hongkong grown, increasing by 16%, reaching 67 million USD. Since March, Vietnam's shrimp export to China and Hongkong shown many positive signs.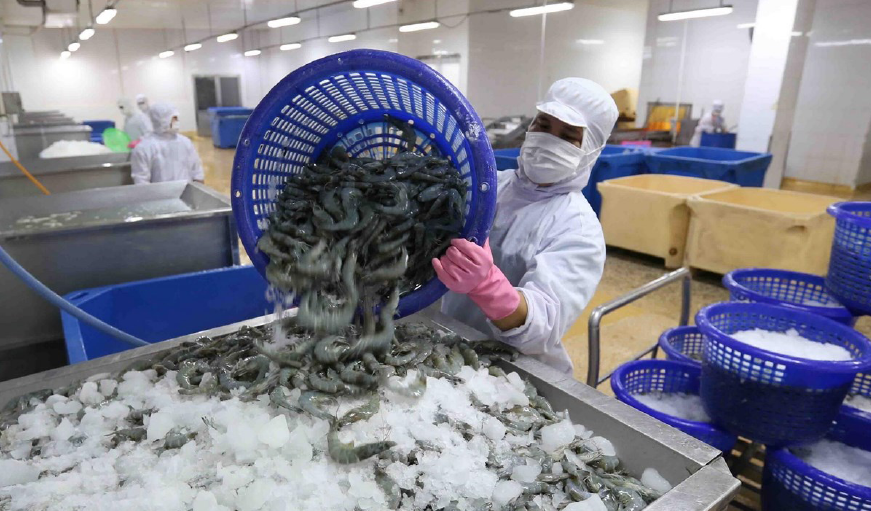 In the structure of shrimp products exported to China and Hong Kong, vannamei shrimp accounted for 54.9%, black tiger shrimp accounted for 25.3%, and the rest was other shrimp. In the first 6 months of this year, the export value of vannamei shrimp and black tiger shrimp to China increased by 1% and 30% respectively over the same period in 2022. The export value of processed vannamei shrimp increased the most by 66%, exports increased by 66%. Processed black tiger shrimp and frozen raw black tiger shrimp increased by 55% and 29% respectively, while exports of dried shrimp increased sharply by 3 digits with 583%.
China and Hong Kong import frozen raw shrimp (HS code 03) from Vietnam, accounting for 97% of the proportion.
According to data from China Customs, China's imports of warm water shrimp in the first six months of this year increased by 49 percent year-on-year to 502,669 tons. Total import value increased 29% to 2.84 billion USD. This shows China's shrimp demand is strong despite the slow economic recovery after the Covid-19 epidemic.
Read more: US maintains the leading tuna importer from Vietnam
Meksea sends you the list of our best-selling products this week
---
Kindly please visit Meksea website to explore our shrimp products: https://mekseaconnection.com/product-category/shrimp/
Meksea always pays particular attention to product quality to secure each consumer's family member's health and set their mind at rest by bringing in true quality seafood products.
Are you looking for shrimp products for your sales plan 2023? Contact Meksea right now for the best offers.
---
By Hayati (Meksea Team)
(hayati@mekseaconnection.com)
(Reference: VASEP)
If you found this topic interesting, please click the Like button below, so we may continue to expand this topic. Leave a comment with your thoughts for the author team to discuss