Seafood Expo Global 2022 is back
MEKSEA.COM – Meksea Team is very excited to meet you in person at the largest seafood expo, Seafood Expo Global 2022, taking place in Fira Barcelona Gran Via Venue this morning 26th April 2022 (GMT+2).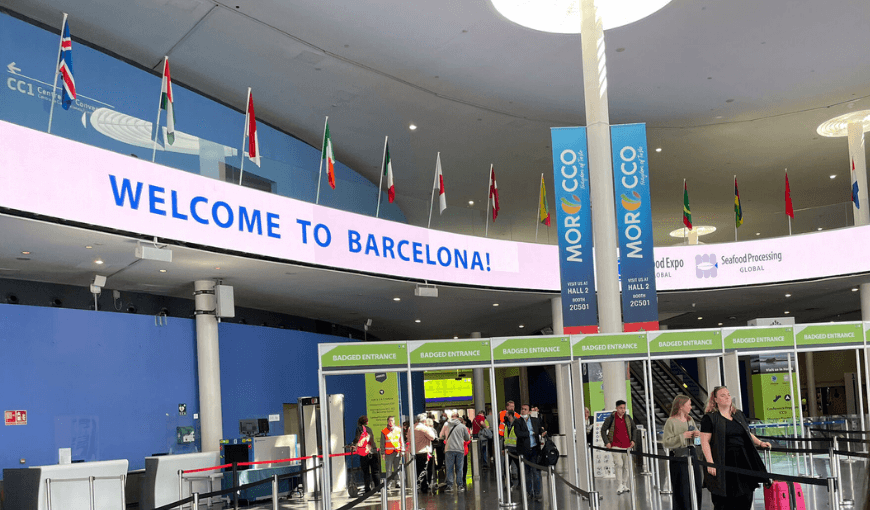 Currently, the seafood industry and other industries have been gradually resuming after a long time impacted by the covid-19 pandemic. Moreover that make us happy to hear that Seafood Expo Global (SEG) has officially been held again, SEG 2022 the first edition in Barcelona, Spanin and is the world's largest seafood trade fair ever. And Meksea is honored to be a member of the Vietnam delegation participating in this seafood expo global and having a stall at 4B501.
Now, our stall, our products and our printed materials are available and willing to serve you in the next 3 days.
In this Seafood Expo Global 2022, Meksea brings to you our wide range of premium products such as: shrimp, pangasius, tuna, marine fish, freshwater fish, baby cuttlefish, baby octopus, squid, white and brown clam, etc
Specialty, our valued customers visiting the seafood Fira show do not forget to come across our Cooking Show program from 10:30 – 16:00, 27th and 28th April. You will have a chance to enjoy tasty dishes served with premium ingredients from Vietnam Mekong Delta materials.
Meksea delegation is in Barcelona until 30/04/2022, therefore, it is a great time for Meksea Team and you to arrange a meeting together to discuss your sales plans in the tumultuous next time.
Happening now at Meksea's booth #4B501 (Photo: Meksea Team)
See you soon at Fira Barcelona Gran Via Venue.
If you are in Barcelona these days, do not hesitate to contact Ms. Sharon via WhatsApp: (+84) 945 101 500 or email: sales4@mekseaconnection.com to discuss your seafood demands as well as the seafood trends in Vietnam.
Whereas, if you are not able to be in Barcelona during this time, you can contact us  via meksea@mekseaconnection.com, Meksea Sales Team is always willing to support you in any circumstance.

How to get the Fira Barcelona Gran Via Venue
Fira Barcelona Gran via venue located in Av. Joan Carles I, 64, 08908, L'Hospitalet de Llobregat, Barcelona, Spain, outside of Barcelona's city center, on the way towards Barcelona Airport. Is a huge building with an interesting modern design.
From Barcelona El Prat Airport – Josep Tarradellas to Fira Barcelona Gran Via Venue you have several options:
Metro
Metro Barcelona iconoL9 Metro Barcelona icono The airport metro can be taken at the two airport terminals, T1 and T2. Your station for Fira de Barcelona is called, of course, Fira. Keep in mind that the Fira metro station connects directly with the fairgrounds.
Bus
Bus 46 stops at the two terminals of the airport. The nearest stop to the Gran Vía venue is Plaça Europa (500 meters). The T10 card and the Hola BCN are useful for this bus. You could also take the AEROBUS, but it does not stop next to Fira Barcelona Gran Vía (it has the Montjuïc venue). If you take the AEROBUS you have to get off at the Plaça Espanya stop (the first in the city) and there take any FGC FGC line from the station that you will find in the same square, just in front of the bus stop, and get off at the Europa / Fira station.
Taxi
In addition to being black and yellow (not black or yellow), what you need to know is that the route from the airport to Fira de Barcelona Gran Vía will cost you approximately € 27.00.
By Meksea Team
If you found this topic interesting, please click the Like button below, so we may continue to expand this topic. Leave a comment with your thoughts for the author team to discuss