Processing shrimp by-products in Vietnam
MEKSEA.COM – Currently, Vietnam's shrimp export volume is considerable, along with a large amount of head and shell waste, accounting for 40-50% of the shrimp's total weight.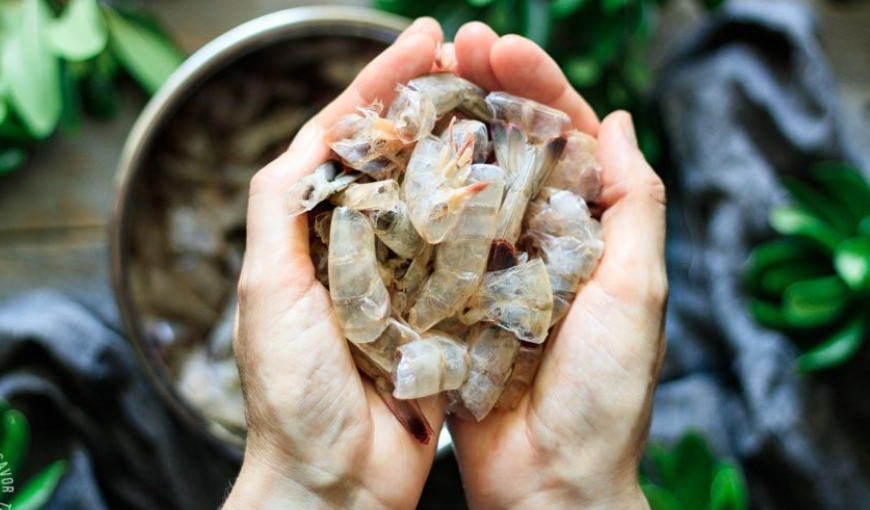 This waste contains a significant amount of Chitin, often discarded, leading to substantial economic losses for Vietnam. In recent years, Vietnam has started using shrimp heads and shells to produce high-value biological compounds such as Chitin.
Here is a brief overview of the Chitin extraction process from shrimp shells:
Step 1: Collect shrimp shells.
Step 2: Remove and clean any impurities from the shells using water.
Step 3: Use HCl to eliminate minerals present in the shells.
Step 4: Use dilute NaOH to remove any remaining proteins in the shells.
Step 5: Collect the pure Chitin after cleaning, drying, and grinding.
To understand the process better, let's delve into the detailed steps:
Collecting Shrimp Shells
Shrimp shells are sourced in large quantities from seafood processing plants in the Mekong Delta provinces. Statistics indicate that in 2019, Vietnam produced around 325,000 tons of shrimp and shrimp waste, with an estimated increase to about 450,000 tons by 2025. This represents a valuable source of raw materials for Chitin extraction.
Removing Impurities from Shrimp Shells
Shrimp shells from domestic seafood processing plants often contain impurities such as shrimp meat, shrimp juice, lipids, etc. Thoroughly cleaning the shells is crucial to eliminate these impurities and minimize the need for chemicals, creating favorable conditions for the demineralization and deproteinization processes in the subsequent steps.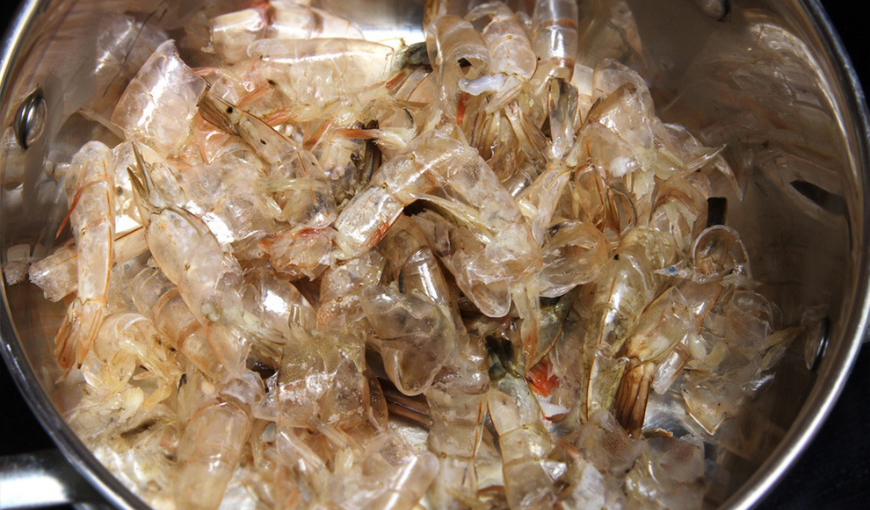 Deminerlizing Shrimp Shells
Minerals make up a significant proportion (45.16%) of shrimp shells, being a major component. To remove these minerals, hydrochloric acid (HCl) is commonly used with concentrations ranging from 2% to 6%, and the process occurs at a temperature between 26°C and 30°C. This process takes approximately 16 hours with a solid/solvent ratio of 1:5. The resulting sediment is then washed and soaked in clean water until a neutral pH is achieved. Subsequently, the sediment is removed for the next steps.
Deproteinizing Shrimp Shells
Protein constitutes up to 23% of the shrimp shell's composition. To remove protein, a deproteinization process is employed using a 4%-8% NaOH solution at a temperature between 26°C and 30°C, with a solid/solvent ratio of 1:5 for approximately 20 hours. The sediment obtained from this process is then washed and soaked in clean water until a neutral pH is achieved. At this point, it is referred to as Chitin.
Grinding and Obtaining Pure Chitin
The pure Chitin is dried until a certain crispiness is attained. Subsequently, it is placed in a grinder to be finely ground into small particles, preparing it for the deacetylation process and Chitosan production.
Meksea sends you the list of our best-selling products this week
---
Kindly please visit Meksea website to explore our shrimp products: https://mekseaconnection.com/product-category/shrimp/
Meksea always pays particular attention to product quality to secure each consumer's family member's health and set their mind at rest by bringing in true quality seafood products.
Are you looking for shrimp products for your sales plan 2024? Contact Meksea right now for the best offers.
---
By Hayati (Meksea Team)
(hayati@mekseaconnection.com)
(Reference: Tepbac)
If you found this topic interesting, please click the Like button below, so we may continue to expand this topic. Leave a comment with your thoughts for the author team to discuss