Nutrient-Rich Marine Fish You Can't Miss
MEKSEA.COM – Fish in general, and marine fish in particular, are common and popular food choices for many households. They are not only easy to prepare but also provide essential nutrients for human health. In this article, we will focus on nutrient-rich marine fish that you shouldn't overlook.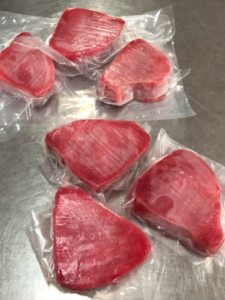 Most marine fish fall into the lean meat category, with sizes ranging from medium to large. Marine fish contains up to 17 amino acids, ranging from 13% to 21%. Additionally, it offers a diverse range of essential vitamins and minerals, including iodine, zinc, iron, phosphorus, and more.
Although frequently found on family dining tables, marine fish still holds some hidden nutritional wonders.
Firstly, marine fish is low in fat (and usually contains healthy fats), which can help lower cholesterol levels and improve blood circulation.
Secondly, marine fish is well-known for being a rich source of omega-3 fatty acids. As a result, it can prevent heart-related diseases, improve mental health, and reduce stress and depression. Moreover, it can help prevent stroke and diabetes.
Thirdly, regular consumption of marine fish (about 2-3 times a week) can boost the immune system, stimulate brain development, strengthen bones, and improve vision.
Here are some high-nutrient marine fish options:
Salmon
Salmon is widely available in the market and is known for its delicious flavor and numerous health benefits. In 100g of salmon, you'll find 2.3g of omega-3 fatty acids, 6.34g of healthy fats, 19.84g of protein, and significant amounts of calcium, iron, magnesium, zinc, and more. It's often referred to as the "queen of fish" due to its high nutritional content, which can promote heart health, reduce blood pressure, and even act as a natural antidepressant.
Mackerel
Mackerel, like salmon, is a rich source of nutrients, especially in terms of omega-3 fatty acids, which can support hair, skin, and nail growth through the production of DHA. Additionally, it provides essential calcium for bone health, helping to improve joint function.
Mackerel
Mackerel is often called a "super-nutrient" fish. In 100g of mackerel, you'll find 19g of protein, 11.9g of healthy fats, and no carbohydrates, fiber, or sugar. Proper preparation and consumption of mackerel can help lower blood pressure, regulate blood sugar levels, reduce the risk of bone and heart-related issues.
Snow Fish (Cod)
Snow fish is known as an excellent weight loss food because it's rich in protein and low in fat. In 100g of snow fish, there is only 1g of fat, along with essential minerals such as calcium, phosphorus, and a variety of vitamins, including B12, E, A, and C.
Tuna
Tuna has long been a top choice for marine fish consumption due to its high nutritional value. It's packed with protein, magnesium, calcium, and various vitamins (A, B, B6). Tuna contains a high amount of DHA, making it effective in improving brain function, reducing the risk of memory loss, and promoting liver cell growth.
Explore: Meksea Tuna product items 
Haddock
Haddock is a marine fish option rich in essential nutrients. It contains significant amounts of protein, omega-3 fatty acids, and vitamin D3. Its ample calcium content can boost joint health and slow down bone aging in older adults. Additionally, haddock can enhance the immune system, improve heart health, and potentially prevent cancer when consumed correctly.
Meksea sends you the list of our best-selling products this week
---
Kindly please visit Meksea website to explore our pangasius products: https://mekseaconnection.com/product-category/pangasius/
Meksea always pays particular attention to product quality to secure each consumer's family member's health and set their mind at rest by bringing in true quality seafood products.
Are you looking for pangasius products for your sales plan 2023? Contact Meksea right now for the best offers.
---
By Hayati (Meksea Team)
(hayati@mekseaconnection.com)
If you found this topic interesting, please click the Like button below, so we may continue to expand this topic. Leave a comment with your thoughts for the author team to discuss