Do you have any ideas for your Christmas Eve party?
MEKSEA.COM – Christmas is the time to touch every heart with love and care. Christmas is the time to receive and send blessings. It is the time to breathe the magic in the air and looks back to everything happening this year. And what a happy moment if we have a Christmas party with your family, your friends, and your beloved ones on this special event.
As far as I know, in the U.S. many people celebrate the Feast of the Seven Fishes on Christmas Eve. The family gathers around a feast of seven different seafood dishes or one or two different types of fish prepared in 7 different ways. If you are hesitant to prepare your Christmas Eve party, let's find out about the Feast of the Seven Fishes.
Bagna Cauda
This dip has plenty of garlic, anchovies, and olive oil and is a great way to kick things off. Plus, it's easily customizable, and you can use more or fewer anchovies or garlic, but just be sure to serve it with plenty of bread and vegetables for dipping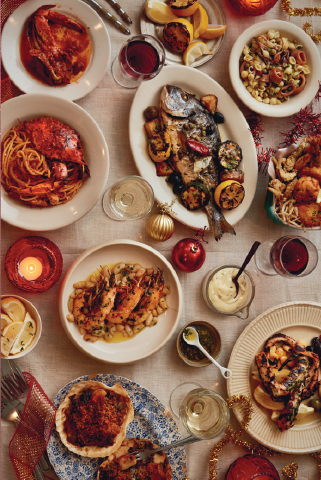 Italian Marinated Seafood Salad
Seven fish may seem like a lot for one meal, but this salad has scallops, shrimp, mussels, and calamari all in one. You can serve it without the lettuces, if you choose to keep the greens, you can use radicchio, romaine, spinach, or a mix of your favorites.
Calamari
Fried calamari is a favorite of many – and for good reason. This recipe is ready in 20 minutes, comes out crispy, and is ready with just a squeeze of lemon or a dip in marinara sauce. You can soak the calamari in milk for 15 minutes after cutting it up but prior to dredging it in flour. This dish is better.
Maggie's Clam Casino
What's better than a half-clam shell stuffed with clams, bread crumbs, bell pepper, and red onions? Not much, which is why clam casino is such a surefire hit for your Feast of the Seven Fishes dinner. There is, of course, room for customization here, and you can leave out the bacon to make it more Feast of the Seven Fishes-appropriate.
Cod with Italian Crumb Topping
When it comes to the main dish for the Feast of Seven Fishes cod is a good, basic option. Topped with breadcrumbs, grated Parmesan cheese, and spices, these cod fillets are straightforward and ready in 25 minutes (which is important when you're making a whole feast)
Tomato Basil Salmon
If you need a main that's simple, quick, and tastes great. This salmon does the trick. Here, the fish fillet is topped with dried basil, sliced tomato, olive oil, and grated Parmesan cheese. It's highly recommended to use fresh basil instead of dried, it's so delicious.
Fra Diavolo
"Fra Diavolo" means "from the devil" or "brother devil." And true to the name, this shrimp recipe is spicy and packed with red pepper flakes and Aleppo pepper flakes (which are popular in Middle Eastern and Mediterranean cooking). If you want, you can serve this over rice or pasta.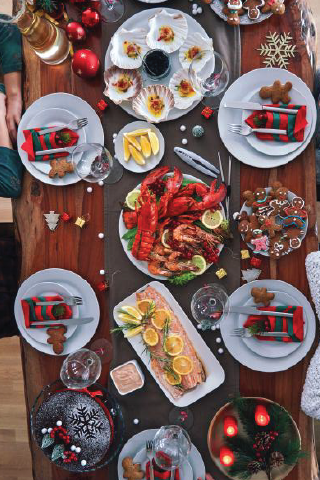 Grilled Rock Lobster Tails
For an unexpected main dish, head outside and grill lobster tails. Seasoned simply with lemon juice, olive oil, paprika, and garlic powder, they're ready in no time. Tip for you, baste constantly to keep it moist and watch out for flare-ups when the oil drips into the grill, you can you a spray bottle handy.
Swordfish a la Siciliana
For a memorable main dish, top swordfish steaks with a sauce made from onion, garlic, tomatoes, olives, pine nuts, and capers. What a flavorsome sauce!
Scrumptious Shrimp Scampi Linguine
This pasta is scrumptious. It's the perfect mix of bay scallops to the pasta, which would make it even more appropriate for this feast.
Clam Sauce with Linguine
This recipe uses two cans of chopped clams, which makes this a super fast and easy recipe. You can use either fettuccine or linguine. Just serve with plenty of grated Parmesan cheese.
Italian Shrimp and Scallop Risotto
This risotto has scallops and shrimp in it and cooks the seafood and rice separately. The rice needs more time to cook, so this keeps the scallops and shrimp from overcooking. Make sure you use high-quality fish stock.
These are some options for your Christmas Eve, wishing you a wonderful time with your beloved ones.
If you have other options, let's share them with Meksea
By Hayati (Meksea Team)
(Collect)
(hayati@mekseaconnection.com)
If you found this topic interesting, please click the Like button below, so we may continue to expand this topic. Leave a comment with your thoughts for the author team to discuss