What will you do with the position of International Sales Executive?
– Seeking for potential customers internationally
– Taking care of customers, introducing them company's products
– Carrying out international seafood trade
– Negotiating prices with customers and suppliers
– Taking customers to farming areas and processing factories in Vietnam
– Attending international seafood expos at which the company has booths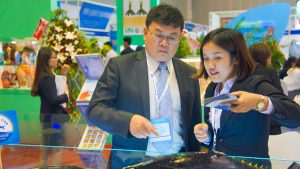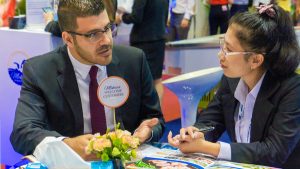 Your benefits?
– Basic salary: deal
– Reward: Earn profit per order according to company regulations.
– Working Regulations: joined all the regimes as prescribed by law.
– Benefit: Bonus; Domestic and international travel; attend international fairs; Health care; Paid leave.
– Allowance: According to company regulations.
– Promotion: Created many opportunities for promotion and career development.
– Probationary period: 2 months.
Working place: District 9, Ho Chi Minh City.
What are you good at?
– Females: from 22 to 28 years old
– Degree holders in International Trade or other majors, assuming to be suitable for this post
– At least 1 year of experience in sales related to seafood products.
– Being quick-witted, creative, able to work under pressure, fond of business.
– Proficiency in Chinese, those who can use English/ Spanish/ Japanese would be preferred.
– Experience in international trade would be a plus (especially seafood)/ or candidates would be trained by the company.
How should you prepare your application?
– One Covering letter
– One Curriculum vitae
– Family record book (one scanned copy)
– Identity card (one scanned copy)
– Academic record sheet (one scanned copy)
– Relevant degrees, certificates (scanned copies)
– Early applications would be highly preferred.
– Applying ways: online or in person
– Applying address: Address: No. 9 – 15th Street, Khang Dien Residential Area, Phuoc Long B Ward, District 9, HCMC, Vietnam
(All the documents submitted must be copies, notarized ones are needless. Completing required documents after successful interviews is essential.)